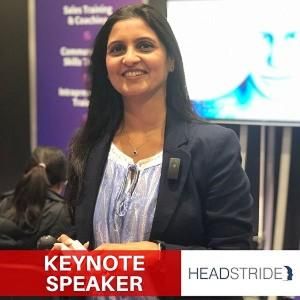 Seema Menon
Seema has over 19 years diverse experience in the Television and Radio industry predominantly in Advertising Sales. Her previous stint as Region Head of Sales, Sony Pictures Network entailed leading teams with responsibility of revenue generation from Europe and Africa for the 4 television channels that she had been entrusted with.
She has recently embarked upon her entrepreneurial venture as a Coach, Mentor and Speaker and been conducting various Apperceptive programs with Headstride Ltd. Seema remains immersed in her role at Toastmasters International, Princes Trust as a Mentor, CSO UK as a Steering Committee Member as well as an evangelist at International Forum for Wellbeing in Pregnancy.
Public speaking had stirred her attention a few years back and Seema has fervently revved up this passion with her indulgence as a keynote speaker at various events like Sales Innovation Expo 2018 & 2019 at Excel in London,10 Forum Sales Performance Accelerate 2018 in Warsaw, FUTR Europe 2019 at Business Design Centre, London, CSO UK 2019 in Wales, AI Summit 2019 and Women in Sales Summit 2019 at Excel, London. The title of 'SPN Guru' has been conferred on Seema for training sales team across territories within Sony Pictures Networks in 2019.
She has done the MBCT Program at Oxford Mindfulness Centre and has been practicing since April 2016. Seema has also held Mindfulness workshop at HMRC IT team leaders conference in London in 2019.