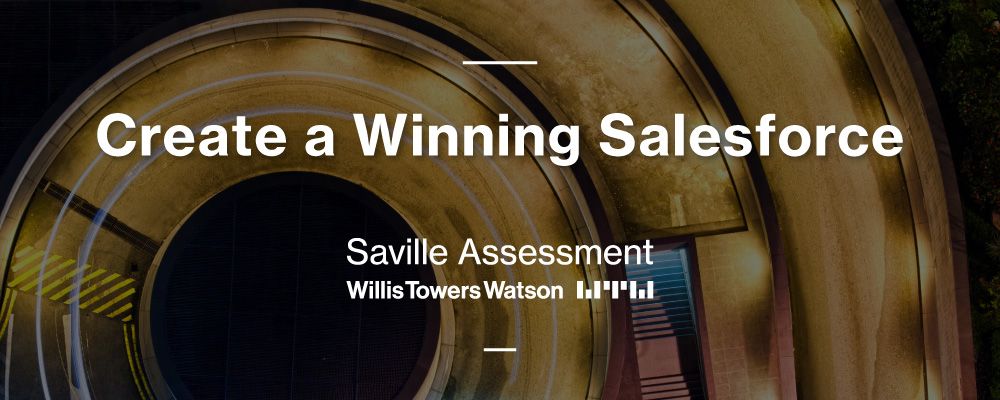 Psychometric Solutions to Hire, Build and Lead your Sales Talent. Saville Assessment produces award-winning psychometric solutions that can be used across the talent cycle.
This includes an extensive portfolio of aptitude tests and personality questionnaires that cover all job roles and levels.
We are recognised for:
• World-Class Products - Our assessment portfolio sets the market standard for research, development and validity.
• Driving Results - We improve the effectiveness of the assessment process for clients by hitting all the key metrics for success and a strong focus on ROI (Return on Investment).
• Smarter Solutions - Our approach embraces innovation, technology and candidate experience without compromising quality.
• Global Capability - We are equipped to deliver large-scale, multi-national assessment projects via our international network.
• Trusted Technology - Your data is safe with us. All our data centres are ISO 27001 certified and offer faster performance and increased resilience. Our platform has industry-leading uptime and offers an efficient user experience.
• Exceptional Service - Our team of experts ensure world-class products are equally matched by a world-class service.
Sales Assessment Solutions
Our Sales Effectiveness Model is used for profiling, hiring, developing and benchmarking sales talent. It allows organisations to drill down into the granular behaviours that underpin the sales process.
The model covers eight core sales behaviours that can be used to rank and profile any commercial role that can all be measured by our market-leading Wave questionnaires:
• Identifying Needs
• Developing Solutions
• Developing Leads
• Closing Deals
• Staying Positive
• Working Collaboratively
• Being Disciplined
• Results Focused
This model underpins a suite of assessment reports that are used across different talent initiatives. This includes hiring, deep dive sales coaching, sales development and talent audits. Our online platform also provides intuitive group analytics for fast and efficient insights into any assessed sales population. We pride ourselves in delivering strong and measurable return on investment.
We take an empirical, data-driven approach with our clients to ensure we`re delivering success.
Using our tools, you can:
• Understand your sales talent in a way that leads to tangible actions and improvements
• Hire based on criteria that is proven to predict successful sales performance
• Identify skills gaps within your current sales force and offer tailored development activity
• Identify the appropriate sales focus for each individual - New Business, Account Management, Sales Leadership
To find out more about how we can help you improve your sales effectiveness, email info@savilleassessment.com or call 020 8619 9000 today.
Address
Saville Assessment Ltd
CI Tower, 1st Floor
New Malden
Surrey
KT3 4HG
United Kingdom
Press Releases
Saville Assessment were delighted to take the crown for Excellence in Assessment at the Association of Business Psychologists (ABP) Workforce Experience Awards 2020.